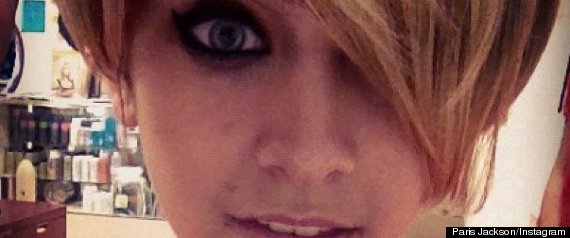 Did Paris Jackson got her Miley on over the weekend?
The 14-year-old daughter of the late King of Pop, Michael Jackson, posted a photo that's reminiscent of the one (or 100) the pop singer / actress posted in August.
It's hard to know for sure if Paris actually Miley'd the s--t out of her hair (a la Lena Dunham) or if she simply styled it much differently for this particular photo.
Either way, she's bound to get some strong responses, as it's different.
She did comment on the original Miley Cyrus photos this summer, however. "i don't know why people keep hating miley's new cut I love it !!" she tweeted.
"Shes being herself & shes being different & I love her for that."
And here is the true story:
Paris did
not
chop her hair to look like Miley Cyrus or any other recently shorn celebrity. She didn't cut it at all.
The Instagram photo Paris posted over the weekend -- which caused quite a stir is indeed Paris, the late Michael Jackson's 14-year-old daughter. And, yes, the picture does show her with a shorter, lighter hairdo a la Miley.
But Paris is wearing a wig, The Huffington Post learned Monday. So stop wigging out. Dennis Christen, producer of Paris's upcoming film, "Lundon's Bridge and the Three Keys",
adapted from his fantasy book series, told HuffPost through her rep that Paris merely tried on a wig. So speculation over Paris pulling a Miley should stop here.
Seems like Paris was having a little fun on us. The Daily Mail reported that she tweeted Friday, "That awkward moment when everyone is saying no to doing the right thing if i want to cut my hair and donate it I'd appreciate SOME support." Then she followed with the pic and the comment, 'how about this one?'
In the photo, notice the shadowy space between her forehead (above her eyebrow) and the wig. Didn't take a supersleuth to figure this out anyway. But glad to get to the bottom of it.
If our opinion matters any, we say, keep the long brunette locks, kid.